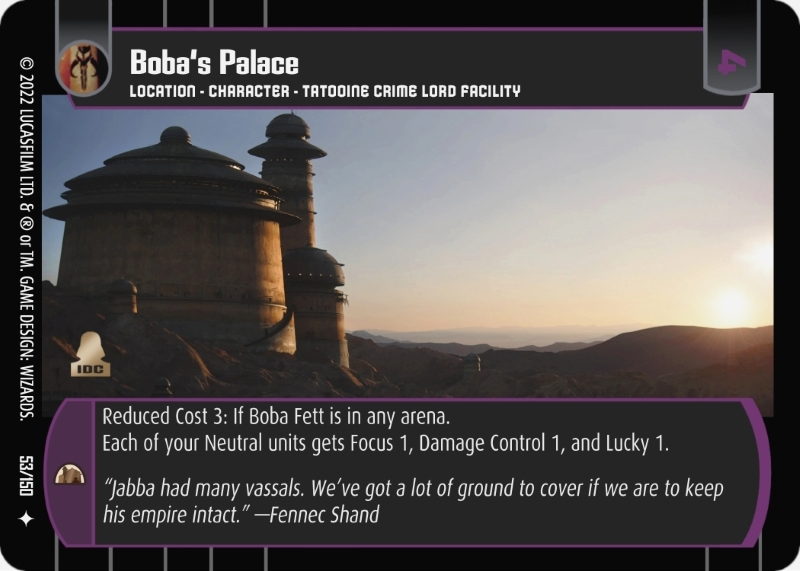 ---
---
---
---
---
---
---
---
---
---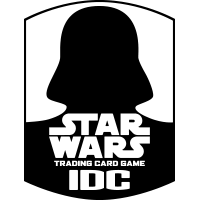 ---
Card Text
Reduced Cost 3: If Boba Fett is in any arena.
Each of your Neutral units gets Focus 1, Damage Control 1, and Lucky 1
---
---
Keywords
Damage Control

Damage Control X:

A cumulative, triggered ability that means, "When your build step starts, you may remove up to X damage counters from this unit."

Focus

Focus X:

A cumulative ability triggered by the initial dice roll that means, "When you roll at least one natural five with this unit's attack dice before re-roll, this unit gets +X power for its next attack." Only the first natural "5" counts. A five rolled after re-roll doesn't matter. Focus applies only to dice rolled for an attack, not to dice rolls for abilities like Retaliate. Accuracy can't increase the die roll to a natural "5."

Lucky

Lucky X:

A cumulative, static ability that means, "Each time this unit attacks or is attacked, you may re-roll up to X of this unit's attack dice or have your opponent re-roll up to X attack dice against this unit." Both players can use Lucky effects according to the rules for POP chances. Lucky is used only once after all triggered re-roll effects resolve. You can't re-roll more dice than are rolled for the attack. You may choose to roll any number of dice up to the Lucky value.

Reduced Cost

Reduced Cost X:

A selective, static effect that means, "This card's cost is X if the listed condition is met." Reduced Cost on cards refers to the build cost, except for Battle cards, where it refers to the Force activation cost. For this keyword, the conditional statement will always start with "If" for clarity. The condition must be met in order for you to be able to pay the "Reduced Cost."