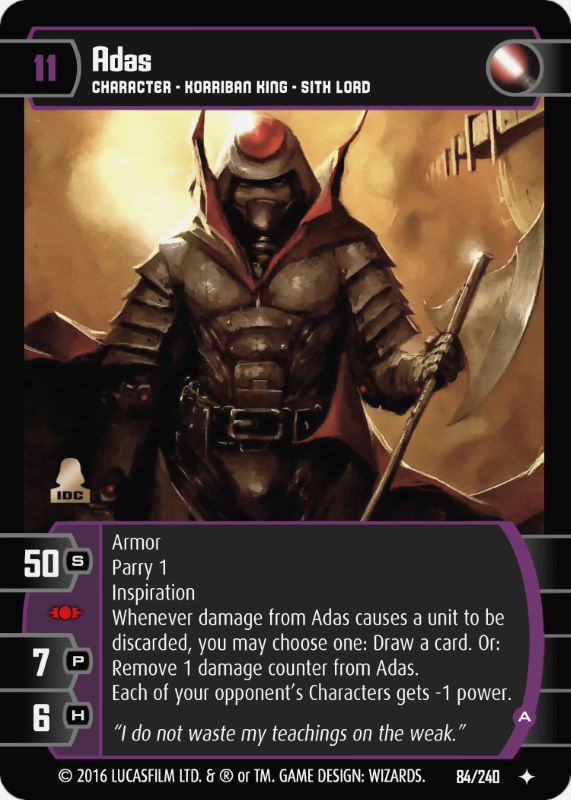 ---
---
---
---
---
---
---
---
---
---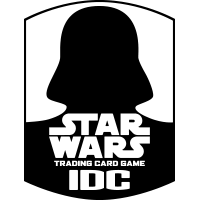 ---
Card Text
Armor
Parry 1
Inspiration
Whenever damage from Adas causes a unit to be discarded, you may choose one: Draw a card. Or: Remove 1 damage counter from Adas.
Each of your opponent's Characters gets -1 power.
---
---
Keywords
Armor

Armor:

An isolated, static ability that means, "This unit can only be hit on a roll of 5 or more." Armor works against dice of damage and attack dice. It redefines what die roll is required to hit a unit. It doesn't modify the die roll like Accuracy. A unit with Accuracy 1 attacking a unit with Armor hits with 4's, 5's, and 6's.

Inspiration

Inspiration:

An isolated, static ability that means, "Each of your other units in this arena gets +10 speed, +1 power, and +1 health."

Parry

Parry X:

A cumulative ability triggered during the damage prevention POP that means, "If the attacking unit rolled at least one natural '1' against this unit, prevent X damage to this unit." Only one natural "1" is counted from the attack roll after re-rolls. Parry doesn't prevent damage from a parrying unit unless it attacks itself. Parry can't affect unpreventable damage. If a unit gets the Parry ability after you roll attack dice, it's too late to affect the damage. Accuracy can't decrease the die roll to a natural "1". However, you or your opponent may use an effect to re-roll dice to affect the number of natural ones. (You only count the 1, if any, from the roll used for the attack.) Parry applies only to dice rolled for an attack, not to dice rolls for abilities like Retaliate.