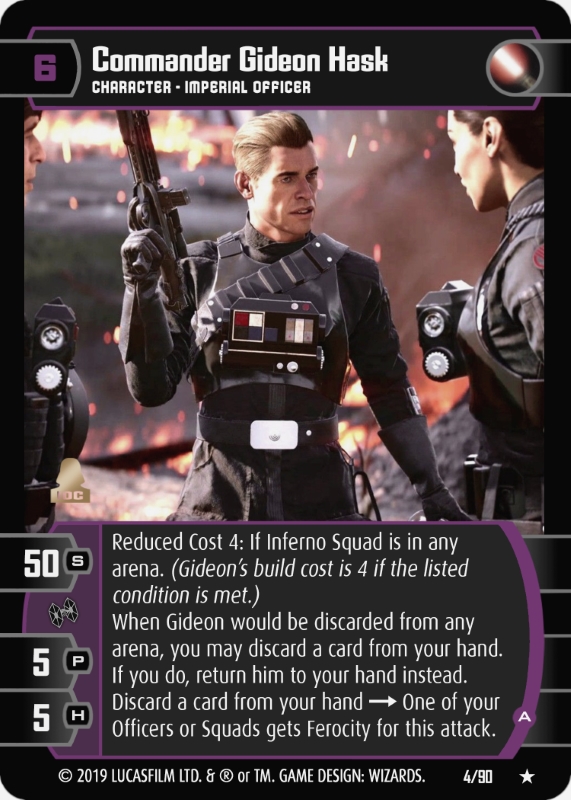 ---
---
---
---
---
---
---
---
---
---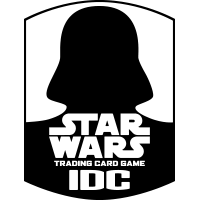 ---
Card Text
Reduced Cost 4: If Inferno Squad is in any arena. (Gideon's build cost is 4 if the listed condition is met.)
When Gideon would be discarded from any arena, you may discard a card from your hand. If you do, return him to your hand instead.
Discard a card from your hand One of your Officers or Squads gets Ferocity for this attack.
---
---
Keywords
Ferocity

Ferocity:

An isolated, static ability that means, "Damage from this unit can't be prevented." Damage that can't prevented includes all damage coming from the unit with Ferocity, including damage from attacks, Ambush, Deflect, Retaliate, and other abilities. Units with Fortitude override this ability, and can prevent damage to themselves from units with Ferocity.

Reduced Cost

Reduced Cost X:

A selective, static effect that means, "This card's cost is X if the listed condition is met." Reduced Cost on cards refers to the build cost, except for Battle cards, where it refers to the Force activation cost. For this keyword, the conditional statement will always start with "If" for clarity. The condition must be met in order for you to be able to pay the "Reduced Cost."
---