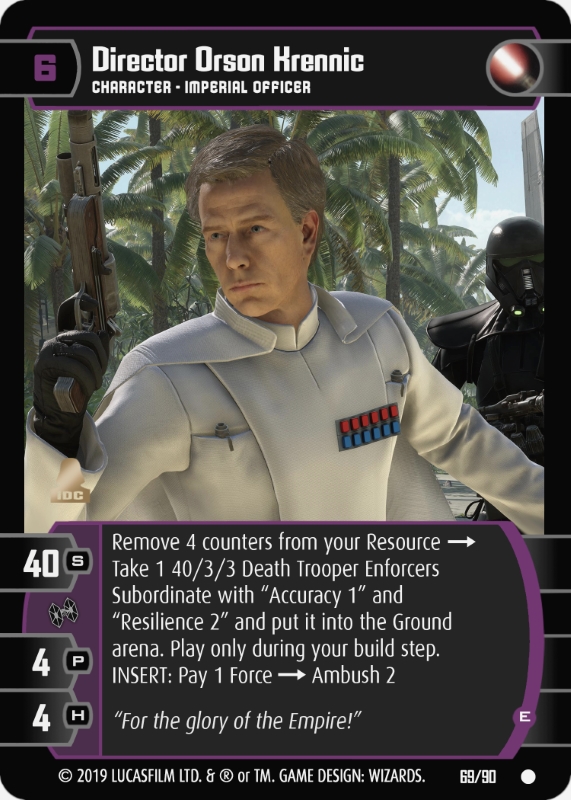 ---
---
---
---
---
---
---
---
---
---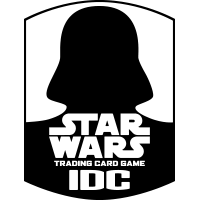 ---
Card Text
Remove 4 counters from your Resource Take 1 40/3/3 Death Trooper Enforcers Subordinate with "Accuracy 1" and "Resilience 2" and put it into the Ground arena. Play only during your build step.
INSERT: Pay 1 Force Ambush 2.
---
---
Keywords
Accuracy

Accuracy X/-X:

A cumulative, static ability that means, "Add X to each of this unit's attack dice." and "Subtract X from each of this unit's attack dice." respectively. Accuracy can't alter "natural" rolls to affect Critical Hit, Fury, or Parry, but it can affect your chance against Armor. If a unit gets the Accuracy ability after you roll attack dice, it's too late to affect the hits.

Ambush

Ambush X:

A layered, activated ability that means, "If your opponent deploys, moves, or puts a unit into this arena, this unit does X dice of damage to that unit." Each Ambush can be used once per instance of a unit being deployed, moved, or put.

INSERT

INSERT:

A layered, static ability that means, "When this card is in play or stacked under the unit, the unit gets the following effect:" Insert works while in the build zone. The effect works while anywhere in the unit's stack. The granted ability remains to be the ability of its type. (For example, activated abilities granted by Insert may be disrupted.) The granted effect may not work in the build zone as per the rule for the rule for that effect.

Resilience

Resilience X:

A cumulative, static ability that means, "As long as this unit has at least X damage counters on it, it gets +X power."
---