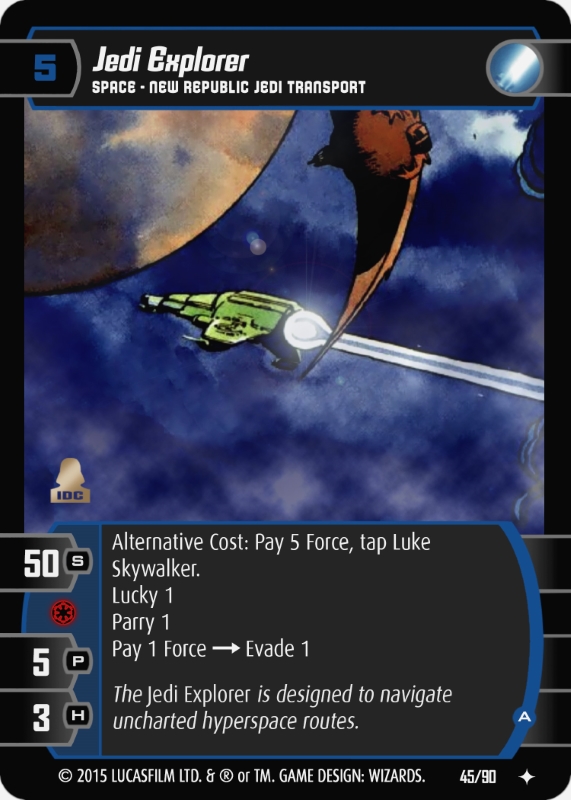 ---
---
---
---
---
---
---
---
---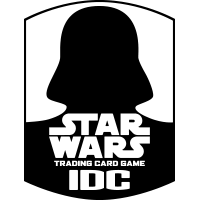 ---
Card Text
Alternative Cost: Pay 5 Force, tap Luke Skywalker.
Lucky 1
Parry 1
Pay 1 Force Evade 1
---
Keywords
Alternative Cost

Alternative Cost: [cost]:

A selective, static effect that means, "Instead of paying the build cost of this card, you may complete this card by paying the [cost] listed." Alternative Cost must be paid in full, if it is not possible to pay the [cost] completely, you can't complete the card. You must pay the [cost] in the order listed. Any ability that reduces the normal cost to complete a card does not reduce the [cost] in that card's Alternative Cost, unless the ability specifically says so.

Evade

Evade X:

A layered ability activated during the damage prevention POP that means, "Prevent up to X damage to this unit." You can play Evade only once for each instance of damage. You don't have to use all of the Evade. You choose how much damage to Evade up to X, even if the full amount of damage or more is pending.

Lucky

Lucky X:

A cumulative, static ability that means, "Each time this unit attacks or is attacked, you may re-roll up to X of this unit's attack dice or have your opponent re-roll up to X attack dice against this unit." Both players can use Lucky effects according to the rules for POP chances. Lucky is used only once after all triggered re-roll effects resolve. You can't re-roll more dice than are rolled for the attack. You may choose to roll any number of dice up to the Lucky value.

Parry

Parry X:

A cumulative ability triggered during the damage prevention POP that means, "If the attacking unit rolled at least one natural '1' against this unit, prevent X damage to this unit." Only one natural "1" is counted from the attack roll after re-rolls. Parry doesn't prevent damage from a parrying unit unless it attacks itself. Parry can't affect unpreventable damage. If a unit gets the Parry ability after you roll attack dice, it's too late to affect the damage. Accuracy can't decrease the die roll to a natural "1". However, you or your opponent may use an effect to re-roll dice to affect the number of natural ones. (You only count the 1, if any, from the roll used for the attack.) Parry applies only to dice rolled for an attack, not to dice rolls for abilities like Retaliate.
---