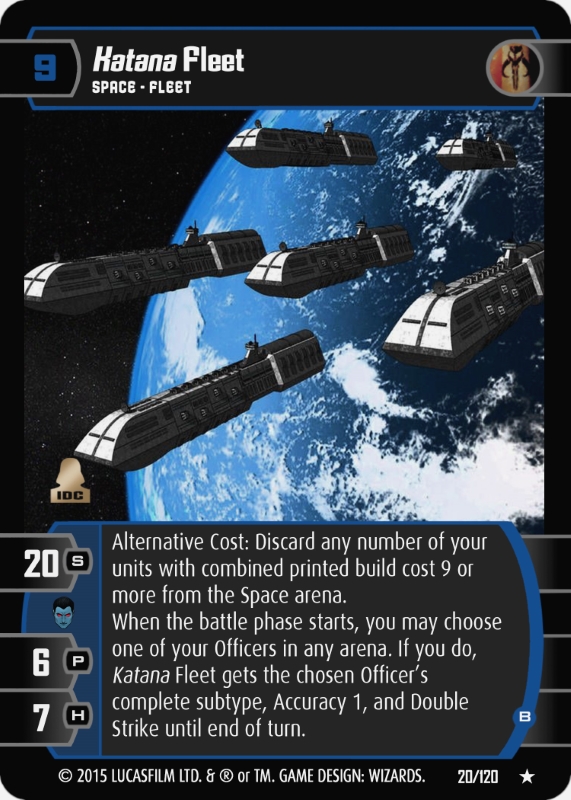 ---
---
---
---
---
---
---
---
---
---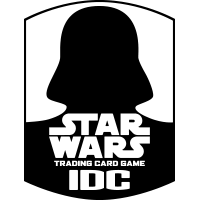 ---
Card Text
Alternative Cost: Discard any number of your units with combined printed build cost 9 or more from the Space arena.
When the battle phase starts, you may choose one of your Officers in any arena. If you do, Katana Fleet gets the chosen Officer's complete subtype, Accuracy 1, and Double Strike until end of turn
---
---
Keywords
Accuracy

Accuracy X/-X:

A cumulative, static ability that means, "Add X to each of this unit's attack dice." and "Subtract X from each of this unit's attack dice." respectively. Accuracy can't alter "natural" rolls to affect Critical Hit, Fury, or Parry, but it can affect your chance against Armor. If a unit gets the Accuracy ability after you roll attack dice, it's too late to affect the hits.

Alternative Cost

Alternative Cost: [cost]:

A selective, static effect that means, "Instead of paying the build cost of this card, you may complete this card by paying the [cost] listed." Alternative Cost must be paid in full, if it is not possible to pay the [cost] completely, you can't complete the card. You must pay the [cost] in the order listed. Any ability that reduces the normal cost to complete a card does not reduce the [cost] in that card's Alternative Cost, unless the ability specifically says so.

Double Strike

Double Strike:

An isolated, static ability played after the attack end POP that means, "You may choose a unit that this unit can attack. This unit attacks that unit. Play only if this unit just attacked and only if it tapped for that attack." The unit must tap for the first attack, not the second. If it untaps, it may double strike again. Double Strike doesn't allow you to attack your own units.
---