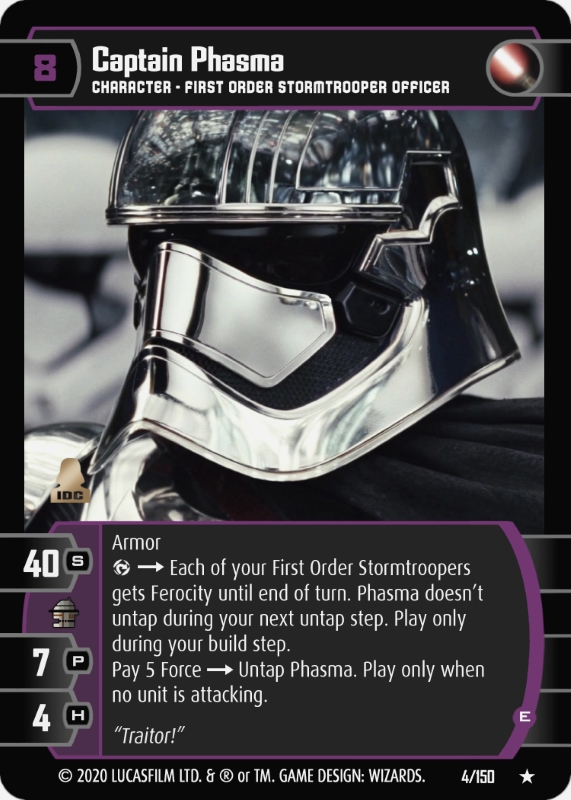 ---
---
---
---
---
---
---
---
---
---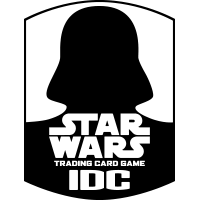 ---
Card Text
Armor
Each of your First Order Stormtroopers gets Ferocity until end of turn. Phasma doesn't untap during your next untap step. Play only during your build step.
Pay 5 Force Untap Phasma. Play only when no unit is attacking.
---
---
Keywords
Armor

Armor:

An isolated, static ability that means, "This unit can only be hit on a roll of 5 or more." Armor works against dice of damage and attack dice. It redefines what die roll is required to hit a unit. It doesn't modify the die roll like Accuracy. A unit with Accuracy 1 attacking a unit with Armor hits with 4's, 5's, and 6's.

Ferocity

Ferocity:

An isolated, static ability that means, "Damage from this unit can't be prevented." Damage that can't prevented includes all damage coming from the unit with Ferocity, including damage from attacks, Ambush, Deflect, Retaliate, and other abilities. Units with Fortitude override this ability, and can prevent damage to themselves from units with Ferocity.
---
---