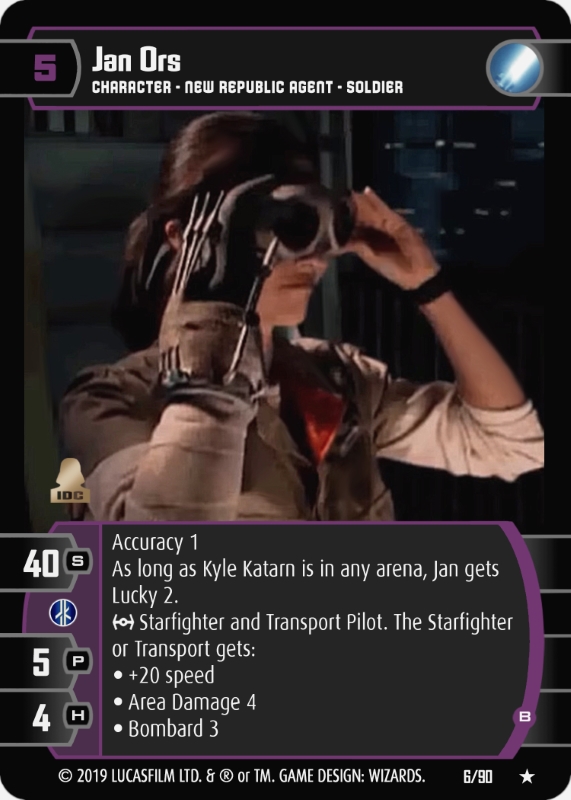 ---
---
---
---
---
---
---
---
---
---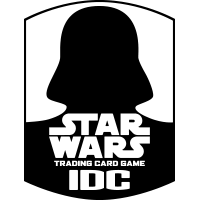 ---
Card Text
Accuracy 1
As long as Kyle Katarn is in any arena, Jan gets Lucky 2.
Starfighter and Transport Pilot. The Starfighter or Transport gets: -+20 speed -Area Damage 4 -Bombard 3
---
---
Keywords
Accuracy

Accuracy X/-X:

A cumulative, static ability that means, "Add X to each of this unit's attack dice." and "Subtract X from each of this unit's attack dice." respectively. Accuracy can't alter "natural" rolls to affect Critical Hit, Fury, or Parry, but it can affect your chance against Armor. If a unit gets the Accuracy ability after you roll attack dice, it's too late to affect the hits.

Area Damage

Area Damage X:

A cumulative, triggered ability that means, "Whenever damage from this unit's attack causes a unit in this arena to be discarded, this unit may do X dice of damage to another unit in this arena."

Bombard

Bombard X:

A cumulative, static ability that means, "This unit may attack a unit in the Ground arena instead of the Space arena, using X power plus any other effects." You choose whether to use Bombard to attack a unit in the Ground arena or to make a normal attack in the Space arena. You can't attack a unit in the Space arena using Bombard. Power changes affect Bombard.

Lucky

Lucky X:

A cumulative, static ability that means, "Each time this unit attacks or is attacked, you may re-roll up to X of this unit's attack dice or have your opponent re-roll up to X attack dice against this unit." Both players can use Lucky effects according to the rules for POP chances. Lucky is used only once after all triggered re-roll effects resolve. You can't re-roll more dice than are rolled for the attack. You may choose to roll any number of dice up to the Lucky value.

Pilot

[sub-type] Pilot:

A layered, static ability written as "[sub-type] Pilot. The [sub-type] gets:… ." that means, "You may move this card onto or off of a non-Droid Space or Ground unit of the correct sub-type once during the build step. Ignore all other text on this card except its name, sub-type and health. The piloted unit can't have more than one Pilot." Treat all of a unit's Pilot abilities for a sub-type as a single Pilot ability for that sub-type. It grants abilities to that unit alone. See the "Pilots" section of the rules PDF for more info.
---
Jan Ors was a Human female Alderaanian intelligence operative who began her work as an agent for the terrorist organization Justice Action Network. As the undercover agent Jan Strange, she then shifted to helping the Alliance to Restore the Republic, becoming one of their trusted operatives.
Ors was instrumental in recruiting Kyle Katarn to the Alliance and together they worked on many missions for the Alliance and later the New Republic. The two would later become romantically involved. Ors continued her work for the New Republic by joining Alpha Blue, a secret intelligence organization, that she eventually took over from Hiram Drayson. There she worked for the Galactic Federation of Free Alliances against the Yuuzhan Vong.
---