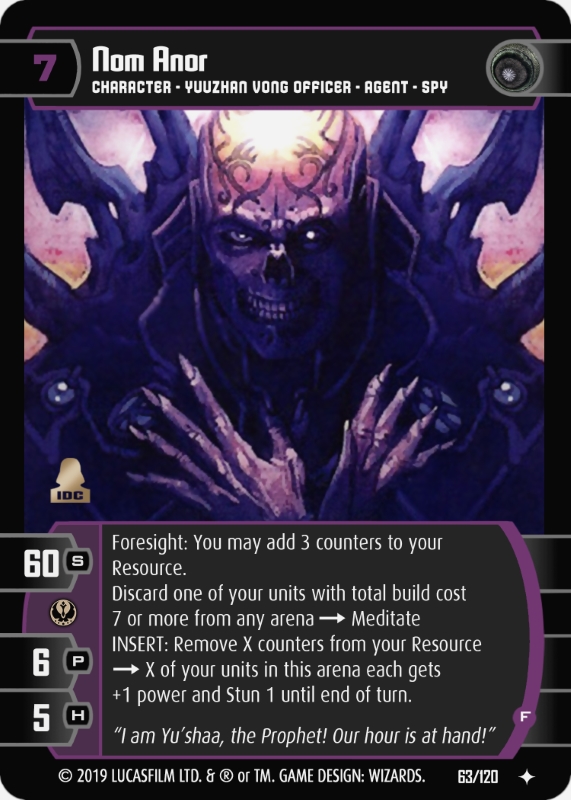 ---
---
---
---
---
---
---
---
---
---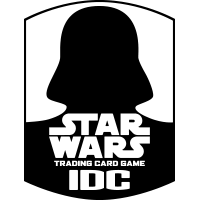 ---
Card Text
Foresight: Add 3 counters to your Resource.
Discard one of your units with total build cost 7 or more from any arena Meditate
INSERT: Remove X counters from your Resoure X of your units in this arena each gets +1 power and Stun 1 until end of turn.
---
---
Keywords
Foresight

Foresight: [Effect]:

A static, layered effect that means, "Whenever this unit attacks, you may predict the number of hits that will be rolled for that attack. If you're correct, gain the [effect]." For example, a unit with "Foresight: Gain 2 Force" will give you 2 force if you guess the number of hits rolled correctly.

INSERT

INSERT:

A layered, static ability that means, "When this card is in play or stacked under the unit, the unit gets the following effect:" Insert works while in the build zone. The effect works while anywhere in the unit's stack. The granted ability remains to be the ability of its type. (For example, activated abilities granted by Insert may be disrupted.) The granted effect may not work in the build zone as per the rule for the rule for that effect.

Meditate

Meditate:

An isolated effect activated during a POP chance or your build step that means, "You may play this card from your discard pile without paying the printed cost. Play only during a POP chance or during your build step. When this card would be discarded, remove it from the game instead." Meditate can only be activated when the card is in your discard pile. Paying the Meditate activation cost means you don't pay the normal printed cost of the card.

Stun

Stun X:

A cumulative ability triggered during the damage placement POP that means, "When this unit damages another unit, that unit gets –X power until end of battle." If no damage counters are placed as a result of damage, Stun doesn't occur. Stun works anytime the unit damages another unit, not just when it attacks. Only the unit with both Deflect and Stun abilities can stun when it activates its Deflect.
---