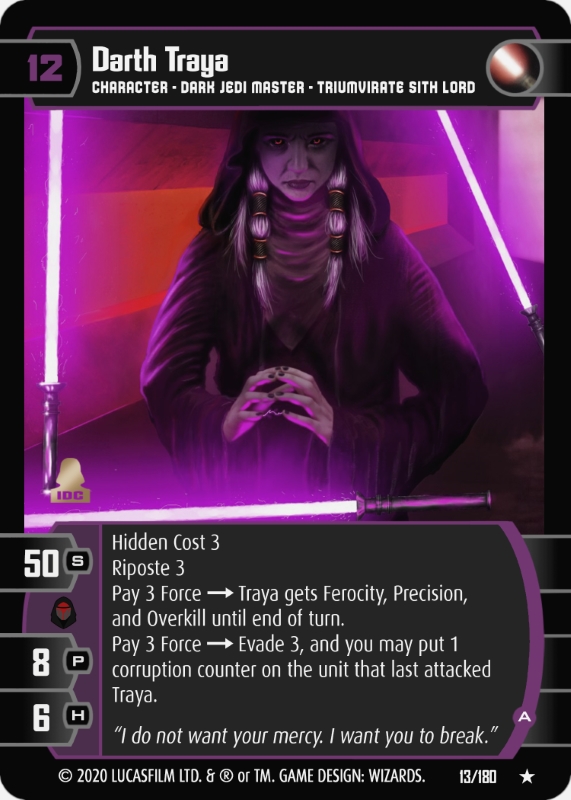 ---
---
---
---
---
---
---
---
---
---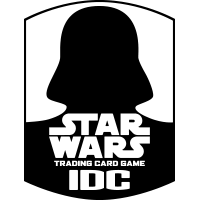 ---
Card Text
Hidden Cost 3
Riposte 3
Pay 3 Force Traya gets Ferocity, Precision, and Overkill until end of turn.
Pay 3 Force Evade 3, and you may put 1 corruption counter on the unit that last attacked Traya.
---
---
Keywords
Evade

Evade X:

A layered ability activated during the damage prevention POP that means, "Prevent up to X damage to this unit." You can play Evade only once for each instance of damage. You don't have to use all of the Evade. You choose how much damage to Evade up to X, even if the full amount of damage or more is pending.

Ferocity

Ferocity:

An isolated, static ability that means, "Damage from this unit can't be prevented." Damage that can't prevented includes all damage coming from the unit with Ferocity, including damage from attacks, Ambush, Deflect, Retaliate, and other abilities. Units with Fortitude override this ability, and can prevent damage to themselves from units with Ferocity.

Hidden Cost

Hidden Cost X:

A selective, static effect that means, "As long as you have a number of build counters on this card equal to X or the unit's current build cost (whichever is less), you may complete it anytime by paying Force for the remaining build cost, if any." Effects and stacking rules may reduce the build cost. You do not need to pay Force if the build cost is within the Hidden Cost integer. You can deploy it to the build zone. Hidden cost can only be played if the card is partially built and has the required number of build counters on it. You may use Hidden cost anytime, even during any Play-or-Pass chances not reserved for re-roll, damage prevention, or disrupt POP chances. If there are a number of build counters on the unit equal to or greater than the Hidden Cost integer, you do not need to pay any Force. You may not use Hidden Cost to deploy a Pilot to a unit.

Overkill

Overkill:

An isolated ability triggered during the pending damage POP that means, "When this unit attacks, you may divide hits in excess of the defending unit's remaining health between that unit and another unit in the same arena." The player who controls the attacking unit decides how many hits (if any) in excess of the defending unit's remaining health to reassign as damage to the second unit. (That player can't change their mind afterward.) A number of hits equal to the defending unit's health must be assigned to the defending unit, and the remainder may be assigned to the defending unit or another unit in the same arena. Overkill damage is caused by the ability, not the die roll. Shields, Parry, and Armor have no effect against it, but damage prevention not specifying dice works normally. Both units resolve damage in tandem.

Precision

Precision:

An isolated, static ability that means, "This unit cannot be intercepted." An attacking unit with Precision cannot have the target of its attack changed by a unit with the Intercept ability. "Elude" is the former name of this keyword. Treat any unit with Elude as if it has Precision instead.

Riposte

Riposte X:

A cumulative ability triggered by the roll of a natural two during an attack that means, "If the attacking unit rolled at least one natural two against this unit, this unit does X damage to it when the attack ends." Only one natural "2" is counted from the attack roll after re-rolls. Negative Accuracy can't decrease the die roll to a natural "2". However, you or your opponent may use an effect to re-roll dice to affect the number of natural twos. (You only count the 2, if any, from the roll used for the attack.) Riposte applies only to dice rolled for an attack, not to dice rolls for abilities like Retaliate.
---