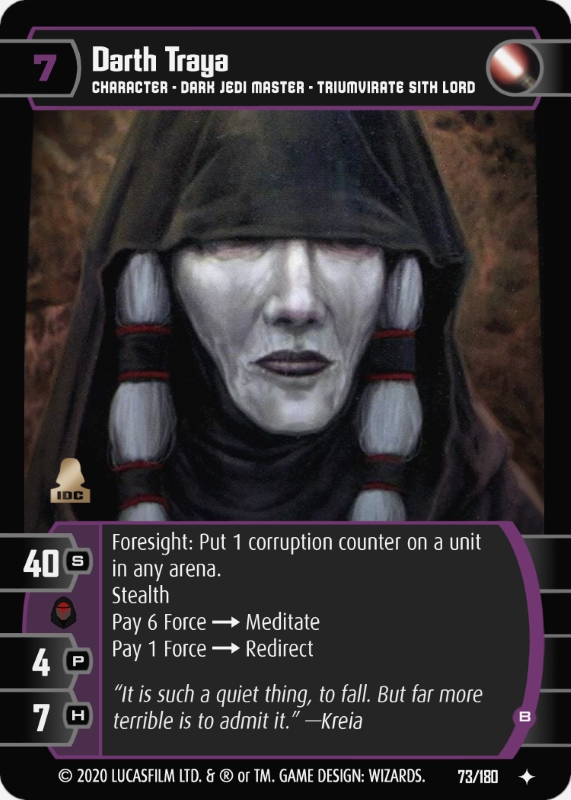 ---
---
---
---
---
---
---
---
---
---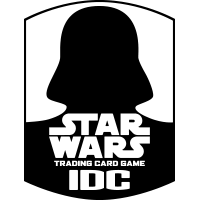 ---
Card Text
Foresight: Put 1 corruption counter on a unit in any arena.
Stealth
Pay 6 Force Meditate
Pay 1 Force Redirect
---
---
Keywords
Foresight

Foresight: [Effect]:

A static, layered effect that means, "Whenever this unit attacks, you may predict the number of hits that will be rolled for that attack. If you're correct, gain the [effect]." For example, a unit with "Foresight: Gain 2 Force" will give you 2 force if you guess the number of hits rolled correctly.

Meditate

Meditate:

An isolated effect activated during a POP chance or your build step that means, "You may play this card from your discard pile without paying the printed cost. Play only during a POP chance or during your build step. When this card would be discarded, remove it from the game instead." Meditate can only be activated when the card is in your discard pile. Paying the Meditate activation cost means you don't pay the normal printed cost of the card.

Stealth

Stealth:

An isolated, static ability that means, "This unit can't be attacked unless it's tapped or has damage counters on it." An untapped and undamaged unit with Stealth can still be affected by alternative types of damage. (Such as Overkill.) As long as the unit has any number of damage counters on it, it can't use Stealth.

Redirect

Redirect:

An activated ability that means, "If this unit is attacked, choose one of your other units that can be attacked and damaged in this arena. The attacking unit attacks the chosen unit instead." Precision will cut through Redirect just as it cuts through Intercept. However, there are cards that can cause a unit to lose Precision, or part of its game text.
---