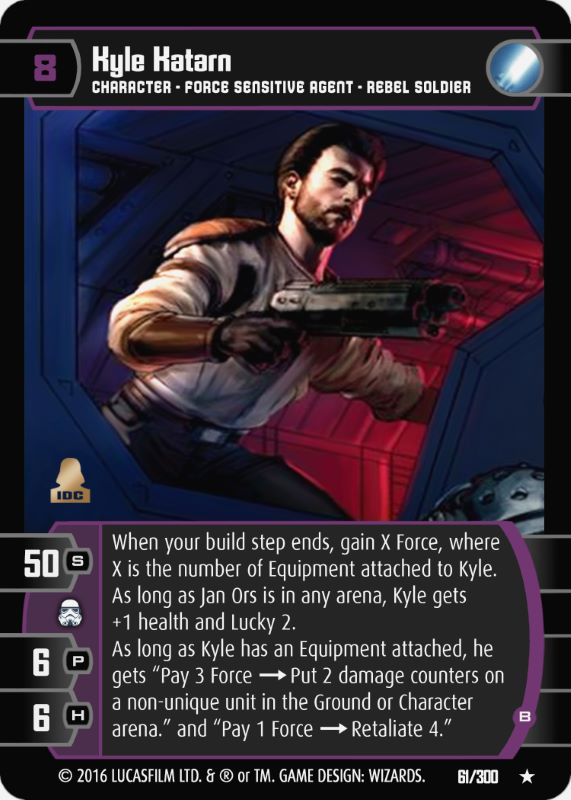 ---
---
---
---
---
---
---
---
---
---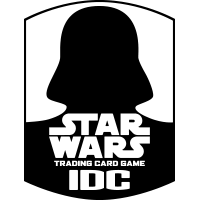 ---
Card Text
When you build step ends, gain X Force, where X is the number of Equipment attached to Kyle.
As long as Jan Ors is in any arena, Kyle gets +1 health and Lucky 2.
As long as Kyle has an Equipment attached, he gets "Pay 3 Force Put 2 damage counters on a non-unique unit in the Ground or Character arena." and "Pay 1 Force Retaliate 4".
---
---
Keywords
Lucky

Lucky X:

A cumulative, static ability that means, "Each time this unit attacks or is attacked, you may re-roll up to X of this unit's attack dice or have your opponent re-roll up to X attack dice against this unit." Both players can use Lucky effects according to the rules for POP chances. Lucky is used only once after all triggered re-roll effects resolve. You can't re-roll more dice than are rolled for the attack. You may choose to roll any number of dice up to the Lucky value.

Retaliate

Retaliate X:

A layered ability activated during the attack POP that means, "If a unit in the same arena as this unit is attacking this unit, this unit does X dice of damage to that unit when the attack ends." A Retaliate ability without an activation cost has a printed cost of "Pay 0 Force -->". Retaliate resolves when the attack ends, even if your unit gets discarded. Retaliate dice are just dice of damage, not attack dice, and can trigger Stun. Retaliate based on a unit's power is based on its total power at the time the Retaliate is activated. Retaliate doesn't work with attacks from another arena (such as Bombard and Ion Cannon) or the build zone. A unit may retaliate against itself if it attacks itself. Each Retaliate may be used once per attack. Each defending unit can activate Retaliate during the attack POP, which resolve in their order when the attack ends, even if the retaliating unit is discarded.
---
Kyle Katarn was a famous Human male Rebel operative from Sulon and later a Jedi of the New Jedi Order. He was a former Imperial stormtrooper who defected to the Rebellion. Often paired with fellow Rebel agent and smuggler Jan Ors, he performed many covert missions for the Rebel Alliance and later the New Republic, including the sabotage of the Dark Trooper Project.
Katarn was later informed of his Force-sensitivity, and taught himself to become a Jedi while in search of the Valley of the Jedi. During this journey, he confronted the dark side within both himself and in the form of the Dark Jedi Jerec and his minions. After defeating them, Katarn went on to become a Jedi Master, teaching at the Jedi Praxeum. He participated in the offensives against the Yuuzhan Vong and became a part of the Jedi High Council in the New Jedi Order.
---
---